Hybrid type sintering machine (continuous type)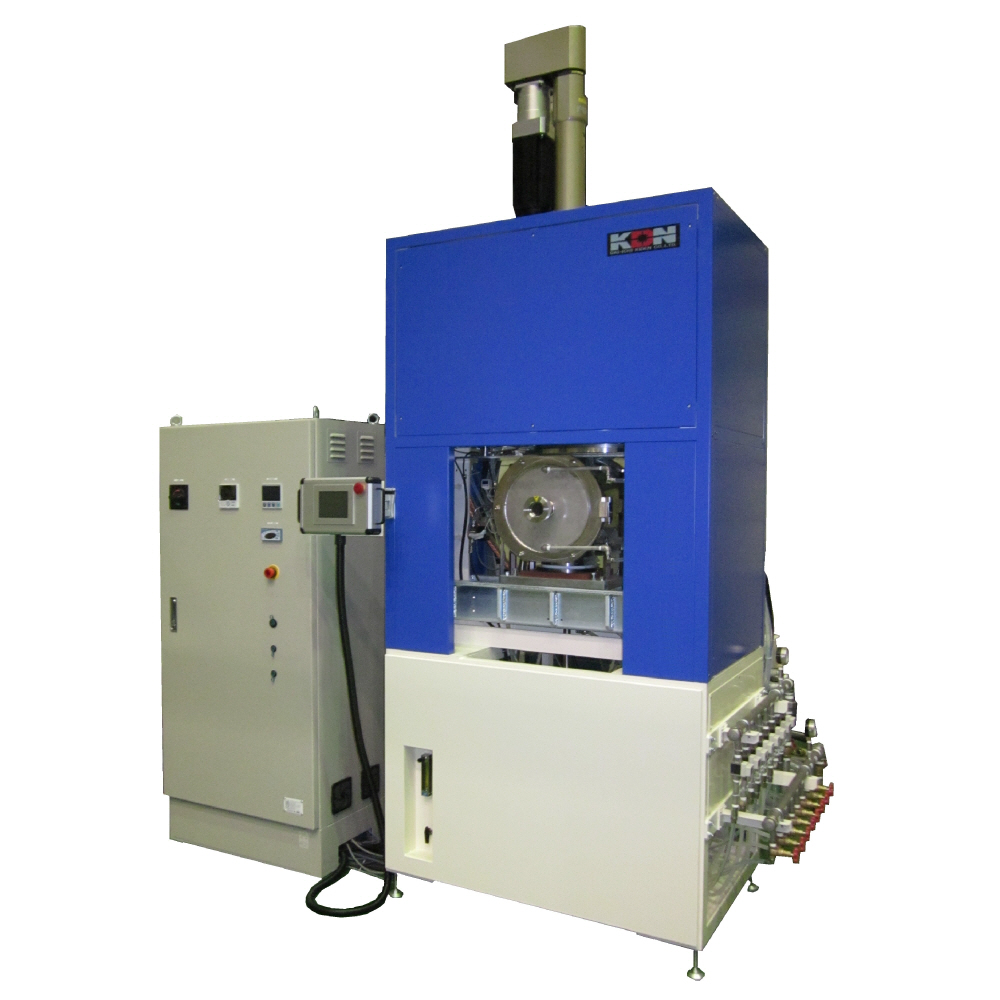 New Hybrid Sintering
Compact and Continuous process available!
SiC RF Induction Heating+Pulsed power+Servo press
HMS-0050M
Description
In combination with high-frequency heating and plasma discharge heating, it can do uniform sintering by a servo press control of the punch, after being heated in a few minutes up to a high temperature range. A shorter sintering time compared to the hot press, further maximizing the efficiency as it is equipped with a continuous sintering feature of our own development.The machine is also suitable for research purposes and mass production. (Patent number: 6678434)
Feature
The speed of sintering process

is enhanced

by a hybrid

heating system

in combination

with

a pulse

current

and

HF induction

A combination of

high-frequency induction heating allows for lower temperature and a shorter time period procedure without the need for bounding materials

Possible to control the

precise

pressure and

pressing

position by

the high-performance

servo press

The

monitoring

of the

torque management

and work

resistance

value

of the press allows for

delicate

adjustment

of

sintered density

Heating

recipe and

atmosphere

in conjunction with

the press

control

by the

program

Continuous sintering

features of our

own

development
Technology
Hybrid heating & precise press control
RF Induction heating, Electric plasma heating make quick temperature increase to high temperature zone. Servo press provides precise sintering control.
Originally designed Continuous Sintering Process
Continuous sintering process helps ensure high productivity.
8 stations(8 cartridges) are provided in the continuous sintering system. 8 different types of sintering processes are available to be set individually which will shorten test time in laboratory.
Sic power module help RF Induction heating to save cost of energy consumption.
Principle of hybrid sintering

Easy operation by touch panel

Precise control by servo press
| | |
| --- | --- |
| Heating method | High-frequency induction heating + pulse current heating |
| Heating temperature | 2500℃ |
| Heating rate | 400℃/min |
| Chamber | Heating chamber + continuous chamber |
| Atmosphere | Inert gas atmosphere after vacuum |
| Press method | Servo press 50kN |
| Temperature measurement | Thermocouple or 2 color pyrometer |
| Optional | Ultimate vacuum 1×10-4Pa, Hydraulic press (Pressure control) |