Hybrid type sintering machine (batch type)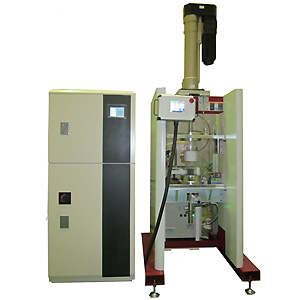 New Hybrid Sintering
Compact fit for R&D
SiC RF Induction Heating+Pulsed power+Servo press
HMS-0100B
Description
In combination with high-frequency heating and plasma discharge heating, it can do uniform sintering by a servo press control of the punch, after being heated in a few minutes up to a high temperature range.
A shorter sintering time compared to the hot press, is suitable for research purposes also in mass production equipment.
Feature
The speed of sintering process

is enhanced

by a hybrid

heating system

in combination

with

a pulse

current

and

HF induction

Possible to control the precise pressure and pressing position by the high-performance servo press
The monitoring of the torque management and work resistance value of the press, can be delicate adjustment of sintered density

Heating

recipe and

atmosphere

in conjunction with

the press

control

by the

program

A combination of

high-frequency induction heating allows for lower temperature and a shorter time period procedure without the need for bounding materials
Technology
Hybrid heating & precise press control
RF Induction heating, Electric plasma heating make quick temperature increase to high temperature zone. Servo press provides precise sintering control.
Originally designed Continuous Sintering Process
Continuous sintering process helps ensure high productivity.
8 stations(8 cartridges) are provided in the continuous sintering system. 8 different types of sintering processes are available to be set individually which will shorten test time in laboratory.
Sic power module help RF Induction heating to save cost of energy consumption.
Principle of hybrid sintering

Easy operation by touch panel

Precise control by servo press
Specification
| | |
| --- | --- |
| Target size | Max. φ20mm |
| Heating temperature | Pursed + HF induction, 1500℃ |
| Sintering pressure | Max. 100MPa |
| HF power supply | Max.output 20kW, frequency 13kHz |
| Pulsed power | Max. output 15V、2000A |