Ultra-compact Bridgman furnace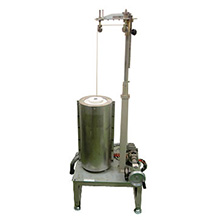 Tabletop size Bridgman furnace
Ideal for sample testing & research
For R&D use
Description
This is the perfect Bridgman furnace for research and development, and for the evaluation of raw materials.
Compact tabletop size and high-frequency induction heating type.
The crucible moves in a temperature distribution, growing a crystal by directional solidification from the edge of the crucible.
It can be easily used in the evaluation of physical properties.
Feature
Low price

Ideal for

evaluation of physical properties

in a tabletop

size

Excellent

thermal uniformity

Crucible

hanging

style
Crystal size 1~2 inch
Specification
Heating method

Resistance

heating

(

1

zone

KANTHAL

heater

)

Heating temperature
1100℃
Output
15kW

Crucible control

Crucible

hanging

Crystal size
1~2 inch
Atmosphere
Air
Control method
PLC control 

(

growth

program

,

furnace atmosphere

)